Common Sports Injuries
---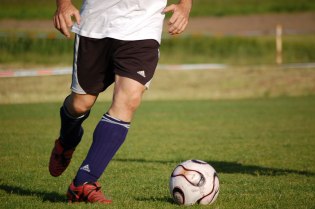 Common sports injuries – and most athletic injuries can be defined into 2 broad categories:
We have a large group of athletes who came to us initially for a common sport injury – but once rehabilitated they become involved in our athletic performance and injury prevention care. We are successful at Advanced Healthcare & Sports Injury in treating both and can refer to other healthcare professionals if necessary.
Repetitive use injuries are actually more common and result from muscle/joint imbalances or incorrect form.
Common examples are:
runner's knee
shoulder impingements
back and neck injuries secondary to faulty posture
most non-traumatic injuries incurred during distance sports
Although we have a high patient population of runners who come to us for hip and knee pain – we also treat a lot of these common sports injuries:
Achilles tendonitis
Various other types of tendonitis
Strains of the neck and back
Throwing injuries
Shoulder injuries
Wrist pain
Hip flexor strain ("pulled hip flexor")
Groin strain ("groin pull")
Jumper's knee
Knee pain
IT Band Syndrome (outer knee pain)
Calf strains
Ankle sprains
Shin splints
And many more!
Another common sport injury – "golfer elbow"
"Golfer's elbow" involves injury and inflammation to the point where the forearm flexors attach to the inner elbow. These are the muscles that pull the palm in the direction of the biceps.
We treat this painful injury through the use of Dry Needling, Active Release and IASTM. You do not have to play golf to get this injury and it is frequently not on the dominant arm.
Do you treat tennis elbow the same way you treat golfer elbow?
Yes and no. The soft tissue treatments would still be Dry Needling, Active Release and IASTM, but tennis elbow is on the outside of the elbow.
The inflammation and injury is related the attachment of the wrist extensors (muscles used to pull knuckles towards the elbow).
Also, tennis elbow is more likely to involve a nerve entrapment.
Thus, the treatment would involve Active Release and nerve flossing protocols. You do not have to play tennis to get this injury and it is frequently not on the dominant arm.
Our treatment and exercise programs consists of:
addressing your existing conditions or injuries
adding benefit of decreasing the likelihood of future injuries
AHSI's Athletic Performance Enhancement and Injury Prevention program is a personalized performance training regimen which includes:
a thorough evaluation

sport or task specific exercises

activity modifications
PLUS personalized instruction and resources so you can conduct your program on your own

What Kansas City Sports organizations recommend Advanced Healthcare & Sports Injury?
Our clinic is or has been the team physician and chiropractor for:
The Kansas City TBones (2009-2018) and KC Smoke Elite Running Team (current)
We are also a recommended chiropractor for:
Runners Edge (Americas Largest Private Running
Club)

KC Ballet
Attention: Kansas City Sports Teams
We offer a service for sports teams. We will screen sports teams for potential injury-causing dysfunctions. For example, many non-contact ACL tears can be prevented, particularly in the female athlete. Call the office for details and team pricing.
---

"Manual Therapies. Sports Chiropractic. One Place." Same day appointments available for sports chiropractic.
Let us help you! 913-764-2271